National Beer Day 2011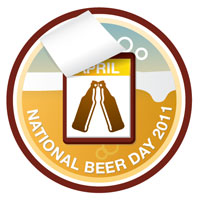 On April 7th, 1933, President Franklin D. Roosevelt signed the Cullen-Harrison Act into law, ending the 13 year long prohibition of alcohol in the United States. For those of us in the beer community, this is a momentous occasion as we couldn't imagine what it would be like had prohibition continued. It's true that people found ways around it by brewing at home or visiting their neighborhood speakeasy, but there would be nothing like the variety and availability that we are used to today.
In honor of this day, we have a new special edition badge for you to earn! Help celebrate National Beer Day 2011 tomorrow, April 7th, by checking in to you favorite brew (or any for that matter) and unlock this badge!
Wed, 06 Apr 2011 20:40:25 +0000