I Believe in IPA
We know how much our users enjoy earning their badges, so why not add another one to the list? Today, we're proud to announce that we've teamed up with our friends at Hoptopia to offer the "I Believe in IPA" badge. Below is a guest write up regarding the badge and the criteria to earn it!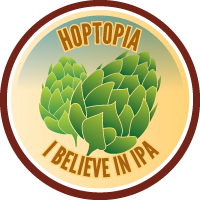 I am very proud to be partnering with Untappd to launch the first Hoptopia themed badge – the "I Believe in IPA" badge.
 
As some of you may know from reading my beer reviews on Hoptopia.com or the Hoptopia iPhone and Android apps, India Pale Ale (IPA) is one of my very favorite styles of beer. IPAs have a rich and colorful history, and they really showcase the aroma and flavor of hops - the resin-y spice that give beers the bitter character we all love so much.
 
How to get the "Hoptopia - I Believe in IPA badge"
 
To earn the "Hoptopia - I Believe in IPA" badge simply drink and check-in any three of the five IPAs listed below in the month of January. Next month I will be selecting five different IPAs that will be tagged to this badge.
 

Dogfish Head 60 Minute IPA
Bell's Two Hearted IPA
New Belgium Ranger IPA
Sierra Nevada Torpedo Extra IPA
Bear Republic Racer 5 IPA

Untappd and I would love to know which three IPAs you drank to earn this badge, so be sure to tweet them @hoptopia and @untappd.

I hope you all enjoy earning your "Hoptopia – I Believe in IPA" badge.

Cheers,
Lee Williams, President and CEO of Hoptopia
Feel free to leave your favorite IPAs in the comments below as well. We would love to hear some good ones to add to our Wish Lists!
Mon, 03 Jan 2011 11:45:24 +0000