National Beer Day / Session Beer Day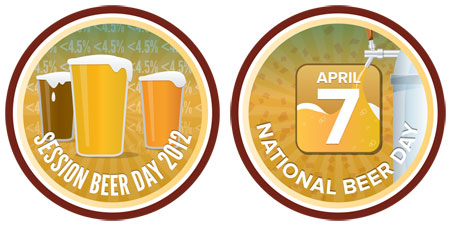 Why not keep the week of badges going with two more epic badges for you to earn!
First up, we have Session Beer Day 2012, which takes place this Saturday, April 7th. This day is a chance for everyone to let go of their quest for the highest ABV and enjoy a flavorful beer that won't knock them down. The goal is to make people aware that there are many excellent beers out there that are less than 4.5%, allowing you to enjoy many more without becoming belligerent. To unlock this back, check-in to a single beer that is above 0% AND under 4.5% ABV.
Next up, we have the return of our National Beer Day badge, which also happens to fall on this Saturday, the 7th. This day and badge are in celebration of the repeal of prohibition. This is a big turning point in the history of alcoholic beverages in the US and without this repeal, we wouldn't be freely enjoying such a diverse range of amazing beers. Instead, we'd be drinking bathtub booze in someone's basement. I think we can all assume which is preferred! This badge only requires a single check-in to any beer!
Remember, both of these badges will be available on Saturday, April 7th only, so be sure to check-in!
Thu, 05 Apr 2012 21:59:00 +0000