Seven Years + October Core Badges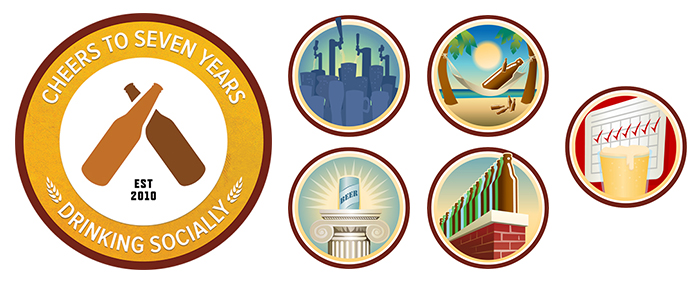 Another year of drinking socially down! It's been seven years since our humble little beer app launched and last month we surpassed 500,000,000 check-ins. It's been a wild ride and we couldn't have done it without you, our awesome, beer loving users. To celebrate this occasion, we have a brand new 7th Anniversary badge for you to unlock. Check-in to any beer between October 18th - 29th and our very special "Untappd 7th Anniversary" badge is yours.
If you happen to be in NYC, Bronxville, Middletown or Boston, be sure to check out these three Anniversary parties with our co-founder, Greg Avola.
In addition to our anniversary badge, we have another set of core badges for you to start earning! These badges are available as of today and are not retroactive UNLESS you have enable retroactive badges in your app settings.
99 Bottles
Check-in to 5 beers with the serving style of Bottle (Level to 100)
Draft City
Check-in to 5 beers with the serving style of Draft (Level to 100)
Daily Checker
Check-in a beer every day of a calendar week (7 days in a row, 1 per day)
For the Can
Check-in to 5 beers with the serving style of Can (Level to 100)
Session Life
Check-in to 5 different beers with the style of IPA - Session (Level to 100)
Help us decide on the next batch of core badges by casting your vote over at https://untappd.com/uservote/badges.
Want to show your love of Untappd? Use the code "BEERHOODIE" at http://store.untappd.com to receive 20% off all apparel until October 31st. Be sure to connect with us on Facebook, Twitter, and Instagram for all the latest!
Wed, 18 Oct 2017 19:45:27 +0000