Untappd 3.1.1 Update
Today, we're releasing a new update for Untappd that includes some great new changes we think you're going to enjoy!
Use Lists the Way You Want
In addition to already being able to create multiple lists, you can now add any type of item (beer, brewery, or venue) to any list. If you happen to be taking a trip somewhere and want to remember to check out some local breweries, bars, and remember some specific beers, you can, all from one list.
Add More Details to Your Lists
Want to use your lists to keep track of your cellar? You can now add notes, quantities, purchase dates, purchase prices, best by dates, and more to beer items on your lists. You can also choose if you want that item removed from your list after checking in.
Redesigned Badge Lists
We've added the ability to sort the badge lists so you can see what's been recently added, what you recently unlocked, and more.
Retroactive Badges
You now have the option to receive badges retroactively. A new toggle has been added to the account settings page. When enabled, Untappd will take into account your past check-ins when unlocking core badges. The retroactive badges will be earned after your next check-in to a qualifying beer. Badges earn with retroactive enabled will be labeled as such in your profile (see below). You can learn more about retroactive badges on our helpdesk here.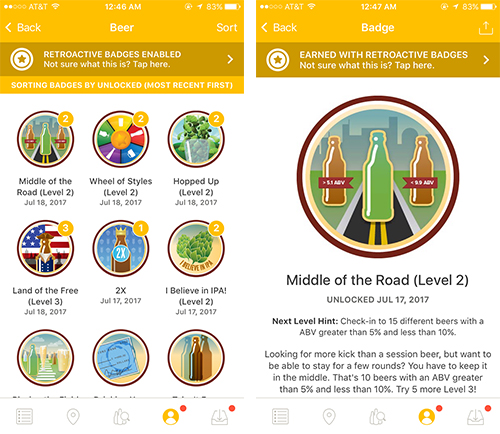 As an added bonus, we're increasing the maximum level count of all level-able badges, including our new local badges, to 100 levels! As with all badges on Untappd, they are NOT retroactive, unless you turn on the newly added retroactive badges feature. You must check-in a qualifying beer to earn it's respective level.
This update is available for iOS and Android device, update today!
Additional fixes:
Badge beer list correctly shows the brewery in the badge list
Badge item list for Wheel of Styles and others now only show one list
When adding a new group, you are sent to the Group Activity post creation
Fixes bug with scrolling on Beer List pages to see more content when filtered
Fixes issue with Local Badge radius not being set correctly.
Error Messages are more specific
General performance improvements and bug fixes
Tue, 15 Aug 2017 16:33:43 +0000