Five Years of Drinking Socially!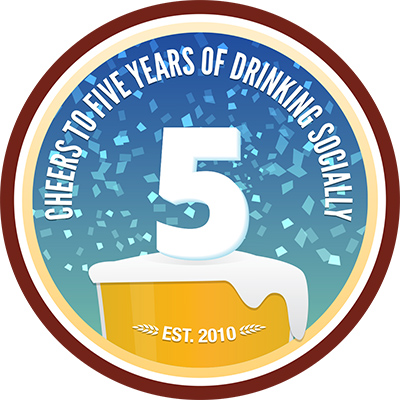 It's hard to believe it's been half a decade since we first release Untappd. After 5 years of drinking socially, the community continues to grow and the joy of beer continues to spread. We couldn't have done this without the support of our users. We're excited for what the future holds and can't wait to share it with you!
In the meantime, let's celebrate with a new badge! Check-in to any beer between October 22nd - October 31st to unlock the "Untappd 5th Anniversary" badge!
If you happen to be in the NYC area, be sure to join co-founder Greg at one of two anniversary parties we will be throwing:
October 22nd @ The Pony Bar UES - http://untp.beer/ut5thponybar
October 24th @ Beer Noggin' - http://untp.beer/ut5thbeernoggin
We are looking to arrange a party in Los Angeles and plans will be announced once we get things finalized.
Cheers to you all and thank you again for continuing to check-in, support us, and spread the word!
Tue, 20 Oct 2015 18:33:03 +0000