Bell's Brown + Bell's In Colorado!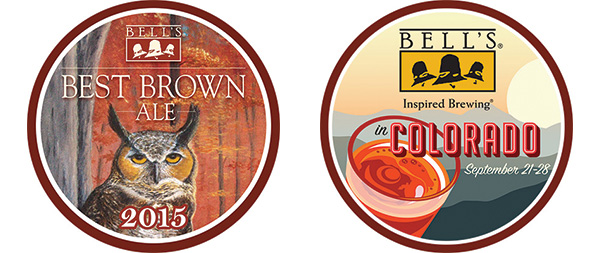 Fall releases are upon us and we couldn't be happier. One such release from our friends at Bell's Brewery is Best Brown Ale, a smooth, toasty brown ale and mainstay for their fall lineup. This beer doesn't come across as heavy, but the malt body stands up to the cool fall weather of the changing season. Aided by a generous use of American hops, Best Brown Ale is a well balanced way to start your Fall.
Welcome cooler weather with a brand new badge and a chance to win a Best Brown prize pack! Check-in to at least one (1) Bell's Best Brown Ale between September 21st - October 21st to unlock the "Bell's Best Brown Ale" badge. To be entered into the contest, simply check-in to the same, but with an awesome picture of your Best Brown Ale! You can checkout all the photos over at https://untappd.com/bellsbestbrown.
Now a special surprise for our Colorado users! Bell's Brewery is heading to your state for GABF and are bringing their beer with them. Available for a limited time, you'll be able to enjoy Bell's beer in your home state. To celebrate, we have a second badge just for you! Check-in to any one (1) beer from Bell's Brewery while in the state of Colorado between September 21st - 28th to unlock the "Bell's In Colorado" badge!
To learn more about Bell's Brewery, head over to http://bellsbeer.com and be sure to follow them on Facebook and Twitter!
Mon, 21 Sep 2015 18:42:35 +0000