Houston & Dallas Beer Week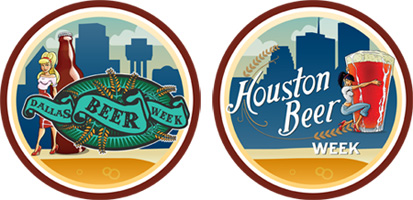 Up to now, we've celebrated beer weeks in the North, East and West but now it's time to head down South. Starting November 12th, the cities of Dallas and Houston will be overtaken with beer lovers from all around in search of the best craft beers, bars and grub these cities have to offer.
As you guessed, to celebrate both Houston Beer Week and Dallas Beer Week (which is having it's inaugural year), we have a set of shiny new badges! These can be unlocked simply by checking in with your location at three different participating venues listed below (in their respective cities, of course) - more to be added as the events approach. These badges will from from November 12th - 18th, so get out there and enjoy what these two great Texas cities have to offer!
For more details, visit http://houstonbeerweek.com or http://dallasbeerweek.com
UPDATE: We have updated the list as of 11/11/11. The final approved venue list is below.
Houston Beer Week Venues
Alamo Drafthouse
Anvil Bar & Refuge
Boneyard Drinkery
BRC
Brenner's Katy
Down House
EL Gran Malo House
Flying Saucer (Downtown & Sugarland)
Grand Prize Bar
Guadalupe Plaza Park
Hans Bier Haus
Haven
Liberty Station
Onion Creek
Petrol Station
Poison Girl
Rockwell Tavern
T'afia
The Ginger Man
Vic & Anthony's 
Whole Foods - Montrose
Whole Foods - Sugar Land
Ziggy's Bar & Grill - Downtown
Ziggy's Bar & Grill - Montrose

Dallas Beer Week Venues
Amsterdam Bar
Blackfriar Pub
Cane Rosso
Cowtown Diner
Deep Ellum Brewing
Eno's
Flying Saucer Addison
Food and Fiber Pavilion
Franconia
Frankie's
Goodfriend
Holy Grail Pub
Idle Rich Pub
Kegs And Barrels - 15th Street
Kegs And Barrels - Parker Road
Reinfield's Corner
Ringo's Pub
Strangeways
The Bottle Shop
The Common Table
The Ginger Man - Dallas
The Ginger Man - Plano
The Libertine Bar
The Old Monk
Trinity Hall
Wed, 26 Oct 2011 19:19:00 +0000