Get Ready for MN Import Week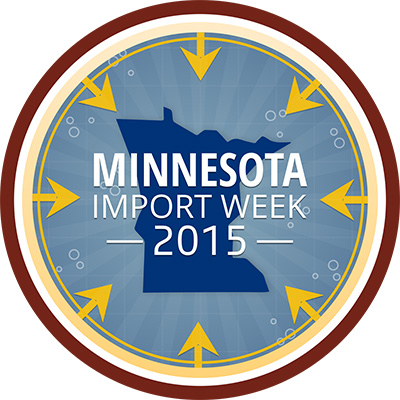 While the beer revolution in the United States has continued to advance the entire brewing industry, let us not forget the great history and present state of the brewing industry all over the world. While we may not be on the same continents, we are all bound by one great beverage, beer. In celebration of all these great global breweries, Minnesota has dubbed this coming week Minnesota Import Week. Kicking off this Sunday, April 12th, and running through the 19th, the goal of Minnesota Import Week is to bring awareness to our beer brewing brethren from all corners of the planet.
To celebrate, we've teamed up with J.J. Taylor Distributing Company of MN, Inc. along with several other Minnesota suppliers, to bring you a new beer week badge for Minnesota Untappd users. To unlock the "Minnesota Import Week (2015)" badge, simply check-in to at least one (1) beer from the qualifying list of imported breweries here while in the state of Minnesota. It's quite a big list, so you're sure to find something to enjoy!
If you're looking to participate in Minnesota Import Week swing by your local liquor store or watering hole to enjoy an import beer or if you happen to be close by, here are some special events happening during the week. Here's a quick list:
Monday 4/13
Import Night at Bulldog Downtown
Tuesday 4/14
Industry Import Night at Bryant Lake Bowl
½ Price Belgian Night Bulldog Uptown
Wednesday 4/15
Food and Import Beer Pairings at Bulldog Northeast
Thursday 4/16
Glassware Giveaway at Buster's on 28th
Import Night at Merlin's Rest Pub
Import Night at Amsterdam Bar and Hall
Friday 4/17
Import vs Local Showdown at Grumpy's NE
Thu, 09 Apr 2015 19:13:31 +0000