Get Your Nitro Stache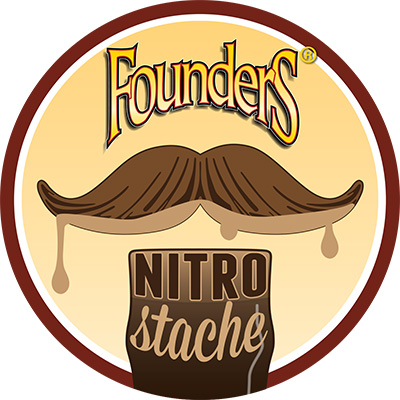 Untappd users know that, unlike some other alcoholic beverages, beer has many expressions—differences in the aroma, flavor and color of beers are wide-ranging. Mouthfeel is another thing that varies from beer to beer. Most beers are carbonated with CO2, but nitrogen can also be used. Nitrogen-infused beers are distinctly creamier than their CO2 counterparts. Try Founders Nitro Pale Ale side-by-side with the brewery's standard CO2 version for a pure mouthfeel comparison, since the two beers are brewed with the exact same ingredients. Or opt for Founders Nitro Oatmeal Stout, a brewery taproom staple that is now available across their distribution footprint, for a wonderful take on a classic style.
By checking into Founders two nitro beers, available on draft-only, you can earn your stache—your nitro stache, that is. Check-in to either one (1) Founders Nitro Oatmeal Stout OR one (1) Founders Nitro Pale Ale to unlock our brand new "Founders Nitro Stache" badge. This badge is available for a limited time only, running from March 3rd through April 3rd. Be sure to track these two great beers down to get yours today—and take a picture of your nitro stache while you're at it!
Learn more about Founders and their fantastic lineup at http://foundersbrewing.com, and connect with them on Twitter, Facebook and Instagram!
Tue, 03 Mar 2015 14:06:46 +0000